MINIPACK vacuum machines are made of Stainless Steel AISI 304 and equipped with an authentic German vacuum pump. The
volumetric electronic sensor assures a steady control of vacuum and gas packaging with 9 storable programs in a user friendly digital control board.
Lid Evacuation Quicker vacuum time and flat working surface for easy sanitation
9 Digital Programs Nine storable programs for different products liquids, solids, gas, etc.
Digital Vacuum Sensor Measures & compares the programmed vacuum percent for accuracy
Moisture Quick Stop Stops vacuum instantly and seals pouch for liquid products
Toolless Trouble Shooting Digitally test components through control board without tools
Service Indicator Digital display will display (OIL) when service is due
Extra Vac Runs the evacuation up to 30/sec longer for porous or soft products
Horizontal Lid Springs Ergonomically designed to reduce weight and operator fatigue
Soft Air Controls the air return rate for delicate or sharp products
Pump Conditioning Removes and eliminates moisture deposits in the oil
Stainless Steel Construction Premium 304 stainless steel materials and robust construction
Quick Change Seal Bar 1 bolt removal system for easy access
Box Frame Construction Twice the strength of regular C-frame
Flat Working Deck Flat deck with bolt-on stiffening bars reduce welding and warpage
Seal
2 Lid Mounted Seal Bars @ 33" (840mm)
(Front and Back)
2 Seals – 1 Seal@5mm and 1 Seal/Cutoff@1mm
Distance Between Sealbars 32.5" (830mm)
Chamber
Width 35" (890mm)
Length 37.5" (950mm)
Lid Height 10.75" (275mm)
Speed 2 – 3 Cycles per/minute
Power
220Volt / 3 Phase / 40Amp
Pump 15hp 300m3h Busch R5
Rotary Oiled Vane
Machine
Width 75" (1900mm)
Length 51" (1295mm)
Height 46" (1175mm) lid closed
Height 57" (1450mm) lid open
Working Height 33.25" (845mm)
Weight 1850lbs (840kg)
Ship Weight 1930lbs (876kg)
OPTIONS
Gas Kit – Nozzle allows entry of inert gas into pouch
Wide Seal – 1 Seal @ 8mm
Double Seal – 2 Seals @ 4mm Domed for high moisture pouches
Evacuation Filter Kit – Prohibits fine particles and moisture from entering pump
Machine Protective Cover Kit
EZ Swing – Creates effortless lid transitions
Bi-Active Sealing – Allows for sealing of gusseted or foil pouches
Air Assist Sealing – Extra seal pressure from external air source


For Pricing & To Schedule Installation, Call Now.
Stalmic Distributors Inc
1268 Ga Highway 99
Townsend, GA 31331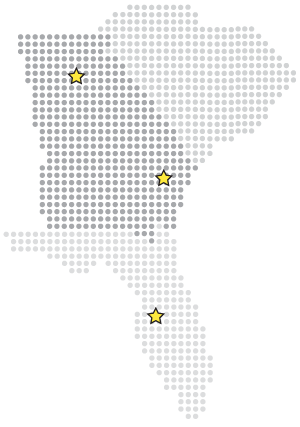 Stalmic Distributors Inc. primarily operates in the Processing and Packaging Equipment business / industry within the Wholesale Trade - Durable Goods sector.