The Model 109PC Electronic Model and the Model 109PCM Mechanical Model can slice up to 180 and 170 slices respectively per minute of Boneless Meat Products. These units can raise your slicing operation to a Higher Level of Productivity to help Lower Labor Cost and Increase Profits. The specially designed sickle-type curved
smooth blade slices the product cleanly (no tearing) thus increases product shelf life and reduces shrink and waste.
The 109PC Electronic model operates by a 7 Programmable Keypad that controls a microprocessor. The programmable keypad allows the operator to tailor the microprocessor to your product thickness from 1/16" (1.5mm) infinite thickness to 30" (762mm) max., reducing the time to change product thickness and operator training.
The 109PCM Mechanical model can slice up to 170 fresh Boneless Meat Products per minute. This Mechanical version operates via a preset Indexing Thickness screw type Mechanism that produces a same slice thickness the full length of the product. The machine can be stopped in process and a different slice thickness from 1/16" (1.5mm) up to 1-1/8" (28.6mm) thick max. can be selected and then finish cutting the product at that different thickness.
10' (254mm) Size 12-4 wire Power Cord less plug • 2 pre-selected Cutting Blades – see above • Stainless Steel Surplus Catch Tray •  Stainless Steel Product Guide Leaf Spring • Operating and Safety Manual
9" (228mm)H x 10"(254mm)W x 30"(762mm)L, Textured finish Stainless Steel
9" (228mm)H x 10"(254mm)W x 35-1/2"(901mm)L, Textured finish Stainless Steel
BLADE
Two special hardened Stainless Steel sickle style Blades are supplied with each machine. Select two blades – standard smooth edge or serrated edge Blades
From 1/16" (1.5mm) infinite thickness to 30" (762mm) max.
Electronic • splash proof • User friendly Key Pad (English or Metric) (tactile and audible) • up to 7 Programable Programs • Auto transport return
Magnetic Interlocks on all doors • Brake motors • Locking casters • OSHA Lockout Power Switch • Emergency "E" Stop Button
OPTIONS (EC)
9" (228mm) or 11" (279mm) Stainless Steel Leg Extensions • Stainless Steel Casters with 5" (127mm) diameter Prevenz Anti-microbial Wheels • a 10" (254mm)W x 48-3/8"(1219mm) L Product Take-away Conveyor, Variable Speed from 0 to 55 feet (0 to 16.8 meters) per minute- Removable Food Grade Belt – Independent On-Off Switch – Conveyor belt discharge height from floor is adjustable from 27" (686mm) to 31" (787mm). The min. and max. conveyor belt discharge height dimensions change accordingly when either 9" (228mm) or 11" (279mm) optional legs extensions are used.
WEIGHT (WITHOUT CONVEYOR)

Uncrated–660 lbs. (299kg)
Crated–1015 lbs. (460kg)
WEIGHT (WITH CONVEYOR)
Uncrated-795 lbs. (361kg)
Crated-1059 lbs. (480kg)
DIMENSIONS PACKED (CONVEYOR PACKED SEP.)

Uncrated – 77"(1956"mm)L x 36-1/2
(927mm)H x 33-1/2 (851mm)W
Crated-85" (2159mm)L x 59"
(1497mm)H x 40" (1016mm)W
MOTORS
IP 65-1/2HP (.35kW) 115V, 60HZ, 1PH Internally cooled, water resistant
Item Number     
LIT-109PC-269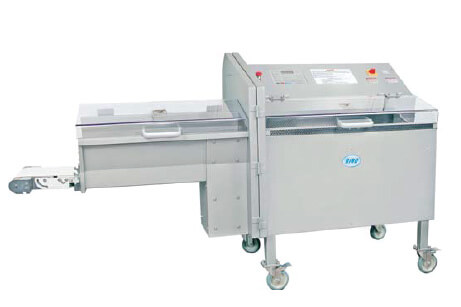 MODEL
109PC Horizontal Slicer – Electronic
Stainless steel welded frame, panels, doors • casters (plated body) with 5" (127mm)
diameter Prevenz anti-microbial wheels • stainless steel surplus tray
| HP | KW | VTS/CY/PH | AMPS |
| --- | --- | --- | --- |
| 3 | 2.2 | 200-208-60-3 | 10.4-10.0 |
| 3 | 2.2 | 230/460-60-3 | 9.1-4.6 |
| 3 | 2.2 | 380-415-50-3 | 5.0-4.6 |
TOTALLY ENCLOSED BRAKE MOTORS
For Pricing & To Schedule Installation, Call Now.
Stalmic Distributors Inc
1268 Ga Highway 99
Townsend, GA 31331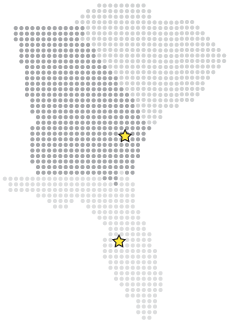 Stalmic Distributors Inc
Lakeland , FL 33801
Stalmic Distributors Inc is located in Townsend, Georgia. This organization primarily operates in the Processing and Packaging Equipment business / industry within the Wholesale Trade - Durable Goods sector.